| | |
| --- | --- |
| Date: | 2009-07-22 23:44 |
| Subject: | Los Angeles |
| Security: | Public |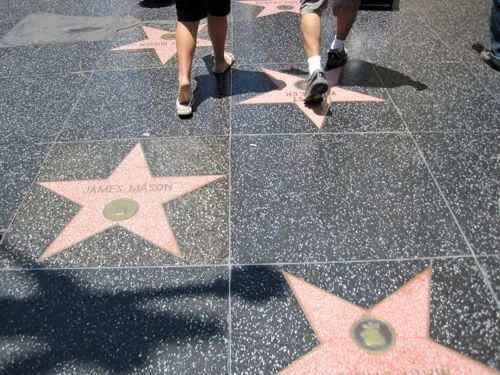 This was a disappointment and a half. I'd heard that LA was big and unsafe, and I only began to agree when I got to see it for myself. I'd never felt so unsafe in my life. Each person walking down the street looked like a thug, or looked at me until I thought s/he was a thug.
I cheered myself up by taking the bus to Hollywood Boulevard. The wrong bus. It took me somewhere to Sunset Boulevard, which is miles and miles away from where I wanted to be, and looked somewhat shit compared to the movies. I stopped at Maccas, got back on a bus – wrong way – got off, got on another, and somehow ended up at one end of Hollywood Blvd. The stars on the footpath were nice. The handprints and footprints and signatures in the cement was nice. Lots of tourists, no actual real-life stars (what was I thinking, why would they be there?). It was a lot of hype. Bought some presents and promptly left after doing some shopping at H&M and other goodies.
Next day took the metro (or was it bus) to Long Beach, which was not a beach, but simply a port-like thing with boats and restaurants and a whole lot of nothing. On the last day I went to Santa Monica, a lovely long pier full of ice-cream parlours and souvenir shops, something that could have looked like it was in the OC, if you took out the tourists. The beach was really beautiful; turquoise water splashing onto white, white sand and tanned, lean bodies everywhere. But there was only so long I could stand there in my long-sleeved shirt (oh I forgot to write about the bedbugs in San Francisco. I looked like a leper).
I returned to Auckland to stop over on the way home to Perth. Uneventful flights, slept some, ate some, felt like I'd done this a thousand times, got back home with no jetlag except for feeling dizzy the next day. Or perhaps I was dizzy because I went straight back to work and study and realised how much prep there is to do for this semester's teaching. Either way, I returned with forty computer pages worth of DeLillo notes and my thesis awaits with many new gaps to fill.
3 comments
|
post a comment
---